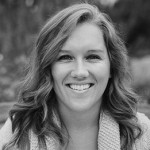 Sarah Moore
In 2008, Sarah became a Christian through Cru's ministry at UC Santa Barbara. She became deeply involved in campus ministry, first as a student and then as an intern, and during this time she became convinced that God was at work in students' lives. Sarah was excited to see God working through evangelism conversations with students, as well as to watch Christian students grow in their faith each semester. When her two-year internship with Cru came to an end, she knew there was nothing she wanted more than to spend her time helping college students come to know Jesus. So, she decided to join the staff with Destino, a ministry of Cru that seeks to equip students in the Latino and Hispanic community to be leaders for God's kingdom.
Ministry Goals
Sarah wants to see the girls she serves growing in their knowledge of the Bible, living Spirit-filled lives, and sharing their faith with family and peers. The broader goal of Destino is to share the gospel with students through evangelism and relationships.
Financial Support
If you'd like to partner with Sarah in her missions work in LA, please visit her Cru donation page.
Prayer Requests
Please pray that God would prepare students' hearts to hear the good news of Jesus Christ.
Pray for Christian students already involved with Destino at USC and UCLA, that they would grow in their passion to share the gospel with their peers.
Pray that Destino staff would rely on the power of the Holy Spirit for strength and hope in every aspect of their lives and ministries. Pray that they would share the gospel with boldness.