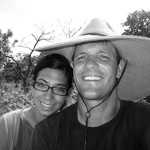 Brock and Danielle Kreitzburg
After the Tōhoku earthquake and tsunami in 2011, Brock worked with Samaritan's Purse to provide disaster relief in Japan. As he finished his work there, he began to pray about where God would have him go next. While praying, fasting, and seeking wise counsel, he was drawn to the plight of South Sudan. He felt a growing compassion 
for the thousands of refugees living in makeshift camps after having been driven from their homes by war and famine. An opportunity opened up for Brock to work with Samaritan's Purse in serving the people of Yida, South Sudan, where Brock started out managing food distribution for a large refugee camp. Soon after marrying Danielle in 2013, Brock was promoted to Country Director. Recently they moved to Uganda, where Brock is Country Director and works on developing local villages to become self-sustaining communities. They've also just had their first son, Akai.
Ministry Goals
Brock and Danielle want to lovingly support the local community and share the gospel with them. Brock hopes to care for his staff and build them up through daily devotions. He wants to lead his team by example, to serve as Jesus serves, and to lovingly challenge his team to grow in the knowledge of Christ.
Financial Support
If you'd like to partner with Brock and Danielle in their mission work in Uganda, please contact outreach@realityla.com.
Prayer Requests
Please pray that the Lord would provide people to partner with the Kreitzburgs in financial and prayer support.
Pray that the gospel would be shared with the community and that people would grow in love for Jesus.
Pray for Brock, Danielle, and the Samaritan's Purse staff in Uganda, that they would find rest and refreshment in Christ.