This year, Reality LA will distribute annual giving statements via The City for those who have accounts. To retrieve your 2017 giving statement, please follow the instructions below.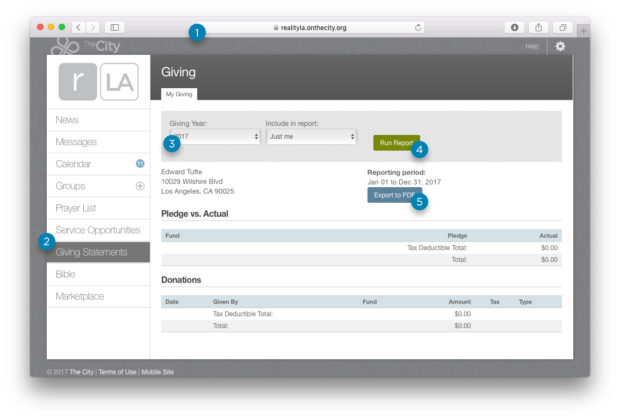 Log in to The City at realityla.onthecity.org
Select "Giving Statements" on the left side of the page
In the dropdown boxes, confirm "2017" and "Just me" (you can also choose "Include my spouse")
Click "Run Report"
Click "Export to PDF"
FAQ
What does this giving statement include?
This giving statement includes all tax-deductible donations from January 1, 2017, through December 31, 2017, whether made online, given at Sunday gatherings via check or cash (when accompanied by a donation envelope), or sent by mail.
How can I receive a 2017 giving statement if I don't have an account on The City?
If you don't have an account on The City and your 2017 donations totaled more than $250, you'll receive your giving statement via email or post by January 31.
What if I don't remember my username or password for The City?
From The City login page, click on "Forgot your login?" or "Forgot your password?"
What if I'm married and wish to export my combined statement, but the dropdown box only offers the "Just me" option?
Please ensure that your account on The City is linked to your spouse's account. You can do this by going to "Account Settings" (under the cog wheel in the upper right corner) and selecting the "Family" tab. Select your marital status in the dropdown box, then click "Add a family member." Begin typing your spouse's name in the field, select him or her, and then click "Save Family." Your spouse will need to confirm this change from his or her own account.
What if my mailing address is incorrect on the statement?
If your address is incorrect, please update your contact information by going to "Account Settings" and selecting the "Contact Info" tab.
What if my donations are incorrect?
If it appears that your donations are incorrect, please email give@realityla.com.