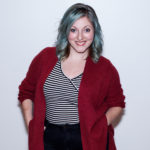 Sarah Frank
Sarah Valentine Frank (yes, that's her real middle name) spent her childhood in the suburbs of Seattle. Her parents were Christians and actively involved in ministry within their local community and abroad. Seeing their genuine relationships with Jesus and service to others made a profound impact on Sarah, and she came to love Christ at a young age.
In her early teens, Sarah started volunteering with her youth group at local food banks, shelters, retirement communities, and other ministries. Through these experiences, she discovered how privileged she was as a suburbanite and developed a heartfelt compassion for those in need. During this time, Sarah also developed a great passion for the arts, but didn't know how that passion could connect with her love for Jesus.
At the age of 20, Sarah left the near-perpetual cloud cover of the Pacific Northwest and headed south to attend Biola University in sunny Los Angeles, where she studied music and ministry. After college, she moved to Hollywood, where she began attending Reality LA and working in film marketing, where she sought to love and share the gospel with those around her.
After a number of years working in the entertainment industry and wrestling to reconcile her heart for ministry and her love of the arts, Sarah realized that her intimate relationship with Jesus didn't preclude a passionate enjoyment of the arts. In fact, her love of creative expression was a wonderful way of enjoying God's goodness and beauty.
In 2013, Sarah came on board with RLA to coordinate local and global missions, and she's excited about helping the downtrodden and encouraging fellow Christians in serving others. Her greatest desire in ministry is to equip and empower people by helping them see how their passions (including the arts) and God's desires can meet together in God's mission to the world. In her free time, Sarah – like most twenty-something females – enjoys the rip-roaring adventures of CBS's MacGyver and Nintendo's Zelda (shout out to N64's Ocarina of Time).