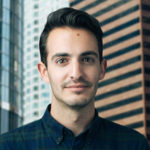 Rocky Santaferraro
Rocky Santaferraro was born in the San Francisco Bay area and grew up in Denver, Colorado. Growing up in a Christian home, he had a generally pleasant childhood. However, Rocky did endure relentless comparison to a certain fictional boxer from Philadelphia, as well as the neighboring Rocky Mountains.
After high school, Rocky moved to Los Angeles to study graphic design at USC. Disconnected from his Christian community, he began to find his identity in the party scene, romantic relationships, and schoolwork. But when all his friends moved away after college, Rocky was left to wonder what true community was and what kind of person he really wanted to be.
In his searching, he remembered that some Christians from college attended Reality LA, so he decided to check out a Sunday service. Rocky was struck by God's presence, grace, and peace. He realized that he didn't need to clean himself up or pretend to be perfect for God; rather, he could be forgiven and changed by the Holy Spirit. Rocky returned to RLA the following Sunday and joined a community group, where he developed authentic friendships with other Christians.
After years of designing logos and websites for corporate clients, Rocky longed to communicate messages and ideas that he truly believed in. So when a graphic designer position opened up at Reality LA, he leapt at the opportunity to use his abilities to share the gospel.
Rocky's favorite ways to connect with God include taking long drives and going off into nature to pray and journal. In his free time, Rocky loves going to the beach, riding roller coasters (seriously – he's ridden over 225 across the country), and hanging out with his wife Alyssa – who he actually met while working at RLA.