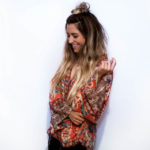 Paige Yim
Paige was born and raised in Houston, Texas, but always had a special place in her heart for the city of Los Angeles and at 18, she entered Biola University to study film production. Her first semester there, she visited Reality LA on a Sunday…and stayed!
While exposed to cultural Christian influences in the Catholic tradition at earlier ages, Paige grew up with a primarily materialistic worldview until, as a sophomore in high school—in the wake of her mom encountering Jesus in a way that transformed her entire internal and external self—the Holy Spirit opened her eyes to realize and recognize Jesus was God. She began to study the Bible and found new desires growing in her heart as her passion for Christ became more and more vibrant.
Paige studied film at Biola for two years before experiencing a distinct calling to the entertainment industry, and to pursue a life of music and worship. Midway through her college experience, Paige visited her home of Galveston Island in Texas and was attacked by a bull shark. She almost lost her left leg and passed away from sepsis before finally recovering. Humbled by her miraculous healing, Paige soon returned to Biola, and upon graduating, began working in the digital marketing field to support her career in music. She has worked primarily in social media since, for companies like Quicksilver and Facebook, which made her a natural fit for the position of RLA's Social Media Manager.
Paige connects with God primarily through worship, music, and song and currently uses those gifts to pursue a professional career as a musical artist. She and her husband are passionate about healthy, plant-based lifestyles and reside in South Bay near the coast.
The shark attack failed to put Paige off surfing, and she has since (both literally and metaphorically) jumped back in the water — the experience continues to inspire her artistic style in music and she still loves following the World Surf League women's championship tour!