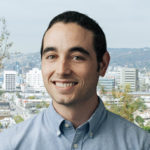 Mark Thomas
Mark Thomas grew up in Pleasanton, California, a quiet suburb in the Bay Area that looks pretty much like what you'd expect a town called "Pleasanton" to look like. Raised in a stable, nominally Catholic home, Mark was exposed to the good news of Jesus Christ as a kid, but came to hold a moralistic view of Christianity. Functionally, he looked for significance and fulfillment in romantic relationships, rather than in God Himself.
It wasn't until Mark's late teens, when one particular relationship came to an end, that he realized that he'd been pinning all his hopes on the dream of a perfect marriage. Mark saw that only the Lord could actually provide the ultimate satisfaction, security, and unwavering love he longed for. In response to this revelation, he dedicated his life to Jesus, putting his entire future into God's hands.
While attending USC, Mark became involved with a Christian ministry on campus and started attending Reality LA. Around this time, he began leading Bible studies and men's groups, and grew passionate about caring for people experiencing suffering. After college, he went through RLA's one-year ministry training internship, and later joined RLA staff as Gospel Care Assistant.
In addition to counseling and care ministry, Mark is passionate about praying for the persecuted church abroad and for people groups who haven't yet heard of Jesus. In his free time, Mark loves studying theology and hiking in the mountains, activities which both remind him of God's incredible power and beauty. One day, Mark hopes to go fly-fishing in the scenic rivers of Montana, which is also the dream of many a man twice Mark's age.