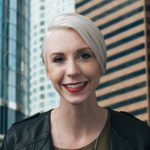 Joelle Schorr
Joelle was born in Eatonville, Washington, and spent her childhood in various small towns, farms, and forests. While she's loved God since she was a little kid, Joelle went through a painful season of family and church scandals during her teen years. In response, she became self-reliant and emotionally guarded, keeping parts of her heart from even God Himself.
As soon as she was out of high school, Joelle ditched the fog-covered woodlands of the Pacific Northwest for the celebrity-strewn boulevards of Los Angeles. It was there that, in a rare moment of openness in prayer, she sensed God calling her to give her whole life over to Him. Since then, God's been at work in her heart, dismantling her defense mechanisms and filling her with a desire to serve Jesus and others.
Joelle first bonded with her future husband (and future co-worker) Phil Schorr over their mutual love of music and the great, green state of Washington. Now married, they reside in Los Feliz (Spanish for "city of hipsters, actors, and musicians") and love cooking and going on hikes together. Joelle is passionate about serving people as they seek to serve God, which fits in perfectly with what she does as Volunteer Director at RLA. Oh, and here's a fun fact: Joelle and her dad built her first car. Yeah, you read that correctly – they built it. That's pretty rad.