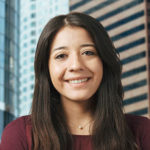 Erika Gonzales
Erika was born in Redondo Beach and raised in Wilmington, California (home of the Guinness World Record for the world's longest burrito—2012 feet, 9 inches!). She began following Christ and was baptized at age six, but it was during middle school that she truly fell in love with Jesus and the Bible. Erika initially came to Reality LA as a teenager because her brother knew founding pastor Tim Chaddick through the music scene. Her first visit fell on RLA's one-year anniversary, and it's been her home church ever since.
Erika attended Biola University so she could both pursue a degree in Cinema and Media Arts and study theology. After college she worked a lot of office jobs where her sole purpose was to answer the phone, so when she learned people would pay money for someone to post things on Instagram, she leapt at the chance to be creative and visual again. She enjoys telling stories in general, but particularly enjoys the challenge of working with the limited canvas social media provides.
Erika is excited to use her skills to serve Reality LA and the gospel in a way that's not about numbers or popularity, but all about Jesus. She sees social media as a space where many of the remaining barriers have been removed between individuals and their ability to pursue Jesus' command and "make disciples of all nations" (Matthew 28:18).
Erika loves the Dodgers, is passionate about sleeping, plays the guitar and enjoys sci-fi, music, going to shows and good Mexican food (even if it isn't the world's longest). She's also had two organs removed, but you'll have to guess which ones.
Did we mention she loves the Dodgers? The Dodgers, and of course the soundtrack to the 2001 film Josie and the Pussycats (Kay Hanley, y'all!).