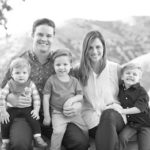 Jeff and Lauren Keys
Jeff and Lauren Keys serve as the directors of Communications for Cru's Latin America and the Caribbean Area Office, located in San Jose, Costa Rica.
 
They could have never anticipated God's calling on their lives in 2012. After several years of working in the entertainment industry, they felt the Lord moving them to use their business skill sets in ministry. After another two years of prayer and support raising, they began their work with Cru. 
 
Jeff, Lauren, and their three boys (Cameron, Jeffrey, and Lucas) have spent the past four years serving as short-term staff (STINT) in San Jose, Costa Rica.
You can learn more by visiting the Keys' blog.
Ministry Goals
The Keys are working with Cru to implement helpful practices and streamline communications across all Campus ministries in Latin America 
and the Caribbean. They are coordinators for two Perspectives classes in San Jose, Costa Rica. Their responsibilities also include project management and student recruitment for Cru's STINT and Summer Project teams.
Financial Support
If you'd like to partner with the Keys in their mission work in Latin America and Caribbean with Cru, please visit their Cru donation page.
Prayer Requests
Please pray that the Lord would provide people to partner with the Keys in financial and prayer support.
Pray for protection from any spiritual attack on their marriage, as well as for health and protection in general.
Pray for continued boldness and trust in the Lord as the Keys live in a new culture and handle new responsibilities. Pray that they would effectively minister as God leads them.